Participants in the Open Days 2013 got a taste of the NSPA cooperation
On the 8th of October, the NSPA network invited participants from the NSPA regions, in the Open Days in Brussels, to a short seminar and networking cocktail to discuss the upcoming programming period, in the light of the NSPA cooperation. The event attracted around 90 participants.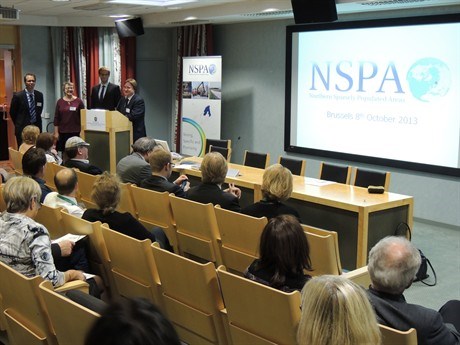 Kari Aalto, Director East & North Finland EU Office, welcomed and introduced the Brussels offices of the NSPA network after which Mikael Kekkonen, Research Policy Counselor, Finland's Permanent Representation to the EU briefly presented Horizon 2020 focusing on the opportunities for the NSPA.
Mika Rantakokko, Vice Director, Center for Internet Excellence, Oulu Innovation Alliance - presented a smart innovation ecosystem in the Northern Sparsely Populated Areas, where the creation of Oulu Innovation Alliance has provided a platform and commitment to keep Oulu as an internationally acknowledged center for innovation.
Jan Edøy, Regional Councilor, Mission of Norway to the EU, outlined the Norwegian interests in the Arctic, focusing on the need and importance of territorial cooperation in the area. Jan Edøy invited stakeholders in the regions to take part in the discussions on territorial cooperation in the Arctic.
Julia Seljeseth, Special Advisor, Troms County Government, presented their view on territorial cooperation with Russia, focusing on 'people to people' regional cooperation and transport connections.
Annelie Luthman , Chair of the Education Committee, City of Sundsvall presented the Green Highway in Mid Scandinavia, a cooperation project developing business opportunities along the green highway between Sundsvall-Östersund-Trondheim.
Cathrin Alenskär, Manager of International Affairs, City of Umeå, gave a view on culture driven growth in the north by giving a taste of Umeå2014, European Capital of Culture, where the programme is based on the Sapmi calendar with its eight seasons.
Erik Bergqvist, Chair of the Regional Council of Västerbotten, summed up the seminar highlighting the importance to use interregional cooperation and our NSPA strengths to overcome our common challenges. Erik Bergqvist welcomed all participants to the next NSPA Forum, 24-25th of October, in Umeå.
The short seminar was followed by a networking session where the participants had the chance to learn more about the good examples from the NSPA and meet their NSPA colleagues in a relaxed atmosphere.
See Mikael Kekkonen's presentation (pdf)
See Mika Rantakokko's presentation (pdf)
See Annelie Luthman's presentation (pdf)
See Cathrin Aleskär's presentation (pdf)